Online Panel Discussion on Environmental Justice
November 15, 2020 @ 7:00 am

-

8:00 am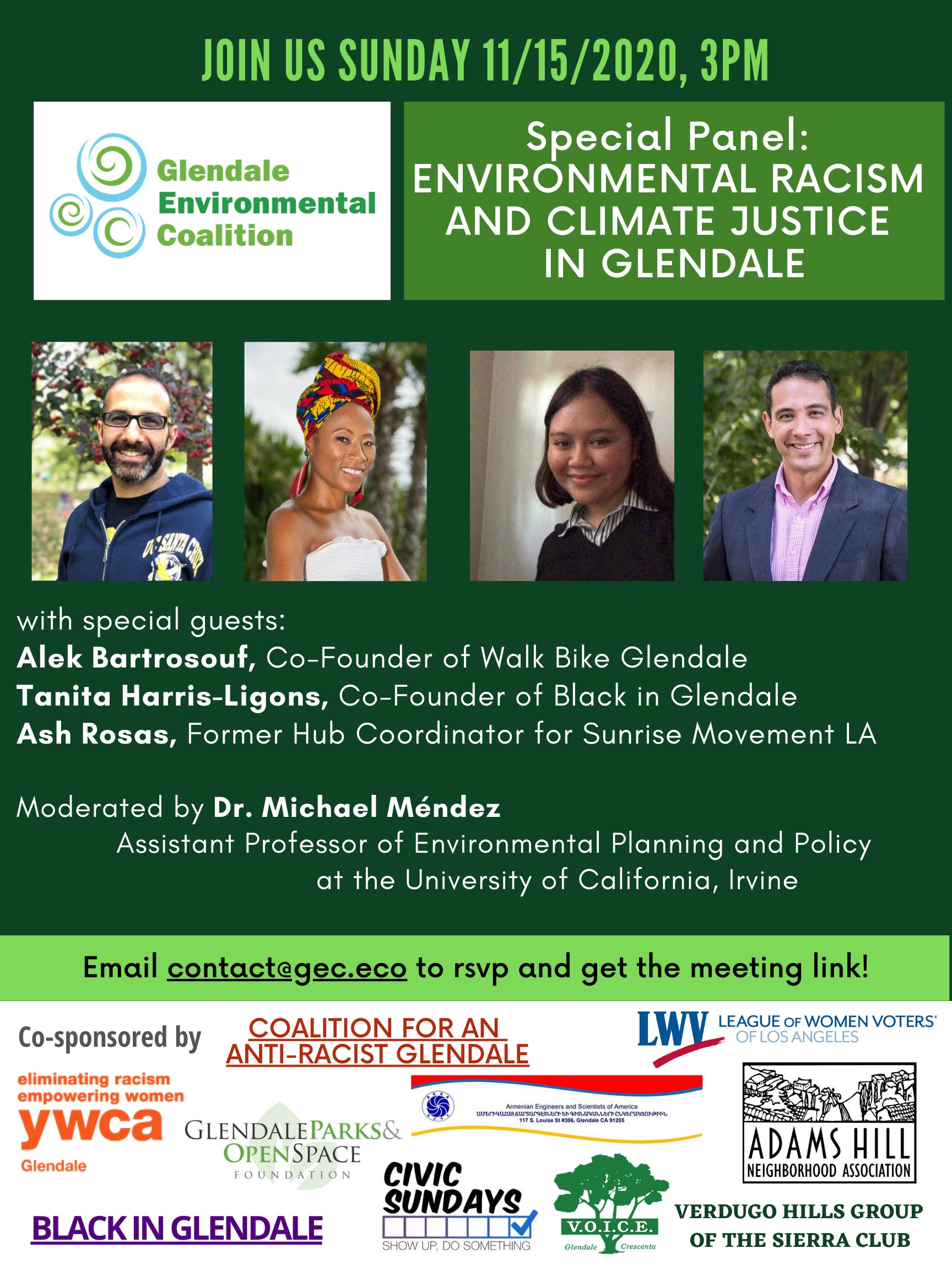 On Sunday, Nov 15th at 3pm Glendale Environmental Coalition will host an online panel titled "Environmental Racism and Climate Justice in Glendale" moderated by Dr. Michael Méndez, a professor of environmental policy and planning at the University of California, Irvine, with local Glendale activists Ash Rosas, former hub coordinator for Sunrise Movement LA; Alek Bartrosouf, co-founder of Walk Bike Glendale; and Tanita Harris-Ligons, co-founder of Black in Glendale. The panel will explore the intersection of environmental harms with social justice and explore questions of how to address equity issues in Glendale.
Topics to be explored include what the term "environmental justice" means, the environmental justice issues that are of the greatest concern in our community today, who is most likely to suffer the effects of environmental racism, and how all members of our community can help alleviate environmental justice impacts.
Many thanks to the co-sponsors of the event: Adams Hill Neighborhood Association, Armenian Engineers and Scientists of America (AESA)​, Black in Glendale, Civic Sundays, Coalition for an Anti-Racist Glendale, Glendale Parks and Open Space Foundation, League of Women Voters of Los Angeles, the Verdugo Hills Group of the Sierra Club, Volunteers Organized in Conserving the Environment, and the YWCA Glendale.
Please join us for this discussion, free of charge. To RSVP, email contact@gec.eco.