The City of Glendale has launched City-Wide Organics Recycling!

To respond to the climate crisis and radically reduce the organic waste decomposing in landfills (which creates methane, a powerful, heat-trapping greenhouse gas) California established SB 1383. This law requires statewide organic waste recycling and surplus food recovery and aims to (1) reduce organic waste disposal 50% by 2020 and 75% by 2025 and (2) rescue for people to eat at least 20% of currently disposed surplus food by 2025. Glendale has been preparing for this moment for several years and launched its Organics Recycling program on April 1, 2022.
The official Glendale Integrated Waste webpage at https://www.glendaleca.gov/, is the best place to start learning about the new program. In addition, the city is adding and answering questions here: https://www.glendaleca.gov/government/departments/public-works/integrated-waste-management/collection-services/organics-faq. We hope to supplement that information on this web page. A good way to begin is to watch the official City of Glendale Public Works Integrated Waste video: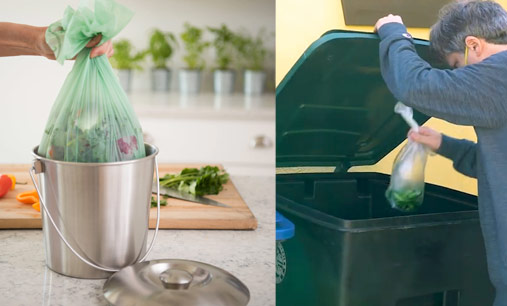 What do I do? 
All residents (single family and multi-family) that have a green "organics" or "yard waste" bin should:
(1) place all kinds of food scraps except hard shell seafood and tea bags (including meat, bones, dairy products, cooked food, veggies, fruits, eggshells, coffee filters and grounds, moldy bread, seafood, beans, poultry, etc.) and certain paper products (food-soiled paper bags, napkins, paper towels and other uncoated, completely plant or tree based fiber items) in a see-through bag (it can be plastic or compostable, as long as it is translucent or clear), (2) knot the bag, and (3) put it into your green yard trimmings container along with the yard trimmings. Any food product, except hard shell seafood and tea bags can go be included. No dog poo!  No diapers!
What about pizza boxes?

There is one exception to the "must bag" rule, PIZZA BOXES! Cut those in half. Put the clean half in recycling and put the greasy half DIRECTLY in your green bin. No need to bag. How do we know? We watched the recent City Council meeting where this was clarified.
Here is a list of "dos and don'ts" for the Green Bin:
Re FOOD, it's simple – EVERYTHING except hard shell seafood and tea bags.

Accepted:
Bagged in Clear/Translucent Bag:
Fruits & Vegetables
Bones, Meat, Poultry, Seafood (softshell)
Bread, Cheese, Pastries
Coffee Grounds & Filters
Pasta, Grains, Rice & Beans
Food Soiled, UNLINED (no coating) Paper Products, e.g. Bags, Napkins & Towels
Unbagged:
Flowers, Branches, Leaves & Grass
Pizza Boxes (food-soiled half)
NOT Accepted:
Bathroom, Facial Tissue or Wipes
Compostable Cups or Utensils
Flower Pots
Hard Shell Seafood (Clams, Mussels & Oysters)
Human and Animal Waste
Produce Stickers
Tea Bags and Wrappers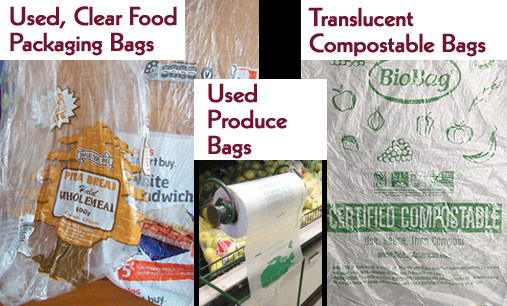 What kind of bags should I use?
Use CLEAR or TRANSLUCENT plastic or compostable bags. Avoid purchasing bags by using any see-through bag that came into your life and you would dispose of anyway, such as a bag that contained your bread, bagels, pita, newspaper, etc.  Simply tie them off before you place in the green bin. If you must purchase bags, we recommend translucent compostable bags, such as these sold at thrive market, online here or here, or at your local grocer, as long as they are easy to see through. Very slightly green is ok, but you want to be able to see through the bag so the sorting facility can see if there are contaminants.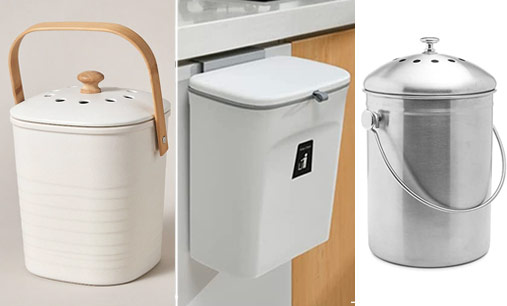 What kind of container can I use to collect scraps?

Aside from the free organic waste pail the City of Glendale has available for each resident (see below), there are numerous other containers with lids you can purchase that you keep on your counter, inside a cupboard door or in your fridge to collect your food and food-soiled paper products, including ceramic and stainless steel types. You can also use a large plastic or glass food storage container. Any container works as long as it has a lid! You can line your container with a clear/translucent bag, so it is easy to take that out, tie it up and put in the green bin on trash day.
The City of Glendale will provide food waste pails

The City will be slowly distributing food waste pails with lids, along with new green bins, to home owners in Glendale. This will happen starting in May and over the course of the next two years.  Initially (Spring, 2022) the kitchen collection pails will be distributed to Monday residential collection routes, and then to other routes over the next three years. Pails are free if you live in a 5+ multi family dwelling serviced by a franchise hauler as well. Each Glendale resident can pick up one organics recycling pail from the Public Works Integrated Waste office, 548 W Chevy Chase Drive, Tuesday through Thursday between 8:00 AM and 3:00 PM. They request you bring a current Glendale utility bill or driver's license and request your free kitchen pail from Public Works Integrated Waste BEFORE you arrive, here. Bags are not provided.
What about backyard composting or taking to a local compost drop-off site?
The best thing to do with MOST of your organic waste (fruit and veggie scraps, eggshells, coffee grounds and filters, and un-coated, food-soiled paper products) is to compost it at home (for example, with traditional composting or vermicomposting), as this is the least impactful on the planet. Home composting involves the least amount of carbon and emissions-producing machinery and transport, and provides you with a rich garden compost to use in your garden to enrich your soil.
The next best thing to do with your organic waste (similar material that you would compost at home) is to bring it to a local compost drop off-site, such as LA Compost. (NOTE: The City of Glendale is working with LA Compost to establish a few sites where residents can do this.)
However! Unless you are using the Bokashi method for home composting, you can't put greasy food, meat, or dairy in your home compost bin or drop it off at the local compost drop-off site. For those organic materials—meat, dairy, greasy/cooked/seasoned food—that you can't home compost or take to a drop-off site, the new green bin organics recycling service is a must.
Whether you choose to compost at home, drop off at a compost site, use the green bin, or use a mix of methods, the overarching goal is to first REDUCE the waste you generate and second, to keep that organic waste OUT of the landfill.
Learn about different composting methods, and find links to in-depth resources and to compost drop-off sites in our "4 Approaches to Composting" web page.
[/vc_column_inner]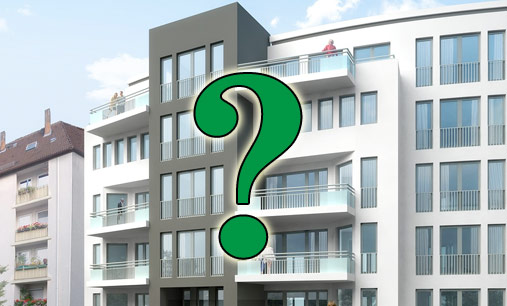 I live in an apartment or condo. Do I put clear bagged organics in the green bin too?
YES. Effective April 1, 2022, multi-family buildings with 5+ units (serviced by one of four franchise haulers) must sign up to get an organics bin. Property managers must provide tenants with access to trash, recycling, and organics collection services, and are responsible for ensuring that tenants are familiar with all aspects of this program, including managing bulky items. What if you don't have organics reycling yet in your multi-family dwelling? The city recommends that you ask your building manager to get it. (They are supposed to have it, unless they have been granted a waiver by the city, for example due to space constraints.) The building manager should coordinate with their waste hauler to have organics recycling. You can find out who your hauler is here. If you have any issues, you can contact Integrated Waste staff at 818 548 3916.
Why is Glendale requiring our organics to be bagged?
It is not ideal. Glendale's Public Works Director has said though this is the Puente Hills Materials Recovery Facility's current standard, he is hoping they will move away from using bags eventually. Unfortunately, the closest (and therefore most economically feasible) destination for Glendale's food waste is currently Puente Hills MRF in City of Industry that uses food waste to create a bio slurry that is then processed with anaerobic digestion (AD) in Carson, to create biogas for energy and transportation. They do not accept yard waste for this process. Thus, the organic material collected from our curbside bins arrives at a transfer station, where the yard waste goes one way, and the bags of food and food-soiled paper waste go another. At Puente Hills, the bags are torn open and then sent to the landfill once the contents are emptied. Los Angeles and Burbank (when their program rolls out in July) send their materials to different facilities that do not require bagging, and therefore they will NOT be requiring food waste to be bagged. Burbank, for example, will send its organic waste to Recology in Tulare, a compost facility that accepts the yard and food waste combined. Pasadena, on the other hand, like Glendale, requires bagging, as their organics go to Puente Hills MRF also. Every city is different!
Perhaps here in Glendale we could support a closer facility that can manage industrial composting, instead of biogas generation, and we could use the compost locally. This would be more sustainable, would reduce the emissions from trucking food waste longer distances, and would provide a benefit to our local soil. It would also prevent the scenario where we supplant one problem (food waste in landfills) with another (a business model that requires food waste to produce carbon-emitting energy—and has no desire to see that "input" reduced). But for now, this is the choice we have for keeping our meats, dairy, and greasy foods out of the landfill.
Visit 301organics.org to see another way of doing things. They work with the Rose Bowl, which now redistributes edible food to those in need and recycles ALL of their food waste onsite, with both traditional composting methods and an onsite food dehydrator, creating compost for their green spaces and golf courses. They are also doing a trial to create and use "compost tea" to fertilize their fields (avoiding a very large annual expense).  This is a truly inspiring and cost-effective model that is worth replicating!
Why does keeping organic waste out of the landfill help tackle the climate crisis?
California is now experiencing the devastating effects of a climate crisis: hotter summers with world record-breaking temperatures, more intense and seemingly never-ending fire seasons, more extreme droughts, and rising sea levels that erode our coastlines. Greenhouse gasses released by human activities cause climate change. Organic waste (including food and yard waste) that is sent to the landfill creates methane, a powerful heat-trapping greenhouse gas, as it breaks down. This is the third largest source of methane in the state. In addition, when edible food is sent to the landfill, we also throw away the water, soil amendments, fuel and labor that were needed to grow and transport that food.
California's goal is to reduce organic waste disposal 75% by 2025 and rescue for people to eat at least 20% of currently disposed surplus food by 2025.
What happens to the food waste?
Glendale Integrated Waste hauled organic waste will go from the transfer station to Puente Hills MRF in City of Industry, where it will be turned into biogas, with some residual output as fertilizer/compost. The embedded video shows the process after the bags are ripped open and the food waste is being processed.
The Franchise haulers work with different industrial composting facilities. Every few months, the City of Glendale offers free compost pickup events, made from the organics recycling collected. Bring your containers and shovels to Parking Lot 30 at 1255 N Verdugo Rd. The next events in 2023 are on March 4 and April 1st from 8 am to 12 Noon.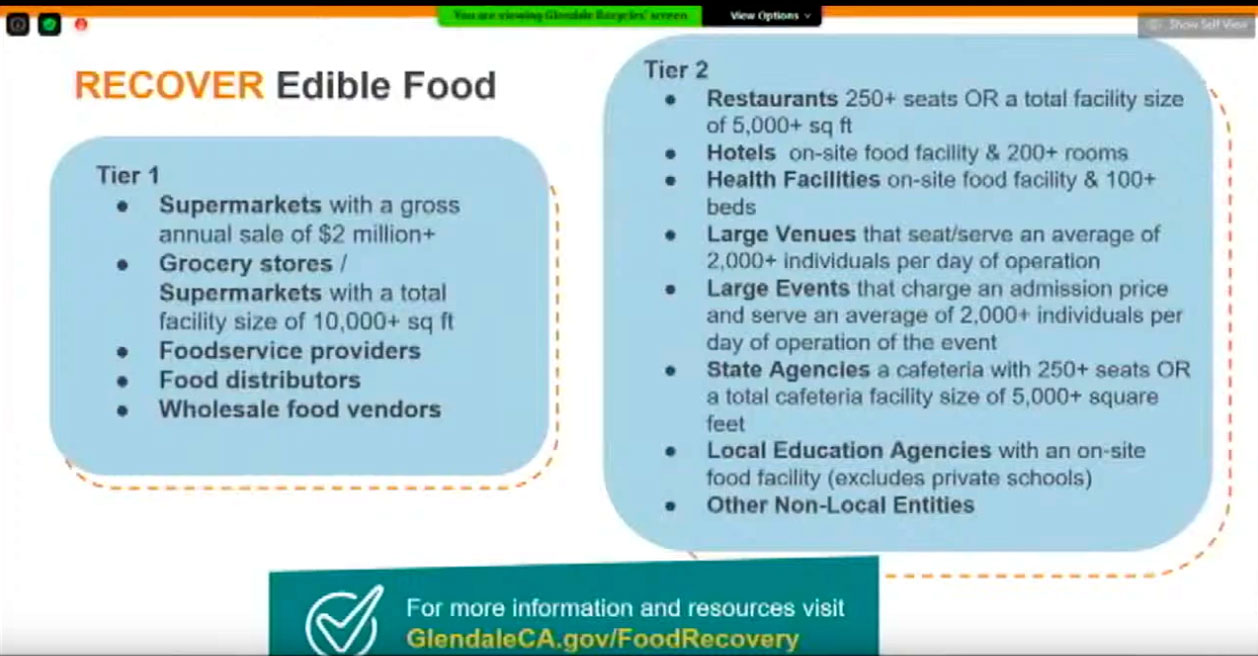 Edible Food Recovery Program

Another aspect of SB 1383 is keeping edible food out of the landfill. The State of California's goal is to divert 20% of edible food by the 2025. As of January 1, 2022, Tier 1 businesses (grocery stores, food services providers,  food distributers, wholesale vendors) must adhere to the new requirements. Tier 2 vendors, including larger restaurants and schools with onsite food facilities, are required to participate by January 1, 2024. Learn more in this video about how certain kinds of businesses are required to re-distribute edible food to their communities.
Have questions?

Please contact Glendale Public Works Integrated Waste with any questions by emailing recycle@glendaleca.gov.
Businesses and commercial accounts that need to request a new collection container for their property should visit glendaleca.gov/hauler to get in contact with their franchise hauler.
Learn More!

Watch the City of Glendale's Webinar from April, 21, 2022: