Glendale City Council Watch
Eco-Items on the Agenda for Tuesday, December 6, 2022
[Items 8a & 8b] There are two agenda items of great interest to GEC and supporters of clean energy for Glendale on Tuesday's agenda:
the Distributed Energy Request for Proposals, which garnered two viable proposals, and
a report from EcoMotion Inc, contracted to evaluate the existing Public Benefit Charge programs "and analyze the potential for increased energy efficiency (EE), load management (LM), and distributed energy resources (DERs) to augment the GWP power system"* as part of a council-directed resolution to identify cleaner alternatives to repowering the Grayson (gas) Power Plant. [*Staff Report]
The EcoMotion report makes 7 recommendations and estimates Glendale can get 104-126 MW of peak capacity over the next 5 years by implementing the recommendations, at a total approximate cost to GWP of $280-320 million.

6 pm Regular City Council Meeting
Agenda/Watch: https://glendaleca.primegov.com/Portal/Meeting?meetingTemplateId=33561
8. ACTION ITEMS
a. Glendale Water and Power, re: Status Update on the Request for Proposals (RFP) for Local Clean Distributed Energy Resources (DER) per Council Resolution No. 22-34
Highlights:
b. Glendale Water and Power, re: Review of Glendale Water & Power Department Public Benefit Charge Programs, Findings and Recommendations
Highlights from Executive Summary section: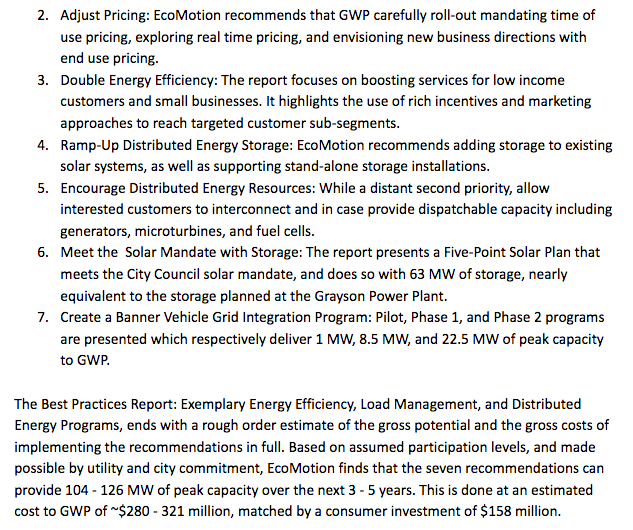 Highlights from Final Comments section: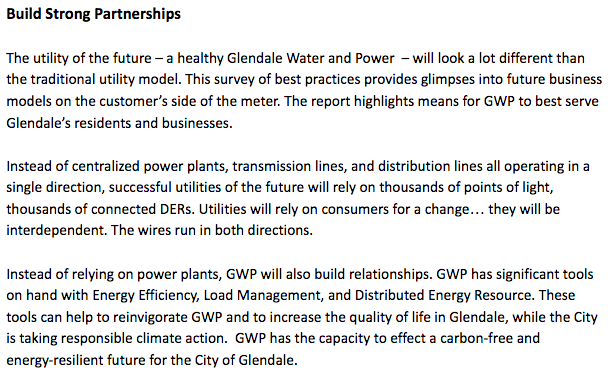 Note – Scheduling changes can and do occur. We try to keep this post updated if things change, but please consult the city website for official agendas.
Subscribe to Blog via Email