Glendale City Council Watch
Eco-Items on the Agenda for 9/21/2021

6 pm Meeting
Live Feed / Agenda: https://glendaleca.primegov.com/Portal/Meeting?compiledMeetingDocumentFileId=45288
4. Consent items

a. Glendale Water and Power, re: Amendment No. 2 to Professional Services Agreement with Clean Power Consulting Partners
Motion authorizing the City Manager, or his designee, to execute Amendment No. 2 to the Professional Services Agreement (Contract No. 8000941) with Clean Power Consulting Partners. Said amendment increases the contract amount by $150,000 to a new not-to-exceed amount of $300,000, for additional consulting and project management services in connection with the Proposed Grayson Repowering Project
c. Community Services and Parks, re: Life Cycle Analysis and Triple Bottom Line Analysis of artificial turf and natural turf
Resolution of Appropriation to appropriate $45,000 from General Fund Undesignated Fund Balance to Park Services Administration Account
7. ADOPTION OF ORDINANCES
a. Management Services, re: AN ORDINANCE OF THE CITY OF GLENDALE ADDING CHAPTER 8.46 TO TITLE 8 OF THE GLENDALE MUNICIPAL CODE TO IN CONNECTION WITH REGULATIONS FOR THE DISTRIBUTION OF DISPOSABLE FOODWARE ACCESSORIES (Brotman, 9/14/2021)
GEC Supports this Ordinance and thanks City Council for their support.
8. ACTION ITEMS
a. Glendale Water and Power, re: Adoption of Specifications for the Proposed Grayson Repowering Project – Unit 9 Separation, and a Request for Proposals for the Demolition and Site Improvements  Note: Grayson Repowering Project Related
1. Resolution Adopting Specification No. 3904 for the proposed Grayson Repowering Project – Unit 9 Separation, and directing City Clerk to advertise for bids
2. Resolution dispensing with competitive bidding and authorizing the General Manager of Glendale Water & Power to issue a Request for Proposals for the proposed Grayson Repowering Project – Demolition and Site Improvement
b. Public Works, re: State of the Community Forest
Motion providing direction to staff
As Usual, our Public Works Urban Forestry folks provide an excellent report that is well worth a read.  Read the full report here. Here are a few excerpts: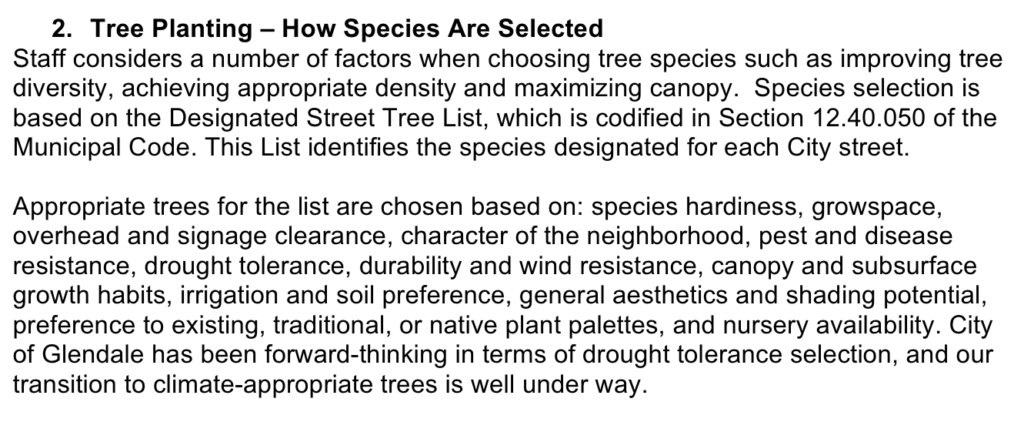 GEC LETTER OF SUPPORT RE: ITEM 8a: ACCESSORIES UPON REQUEST
GEC sent a LETTER OF SUPPORT to City Council for passage of Glendale's proposed Disposable Foodware Accessories Ordinance, requesting the ordinance integrate Los Angeles City's ordinance language which has two key differences from the county version which make it more substantial and effective. The letter was written in collaboration with Ban SUP and signed by over 15 organizations. GEC thanks all the organizations supporting our request and the input in particular from  BAN SUP and Surfrider Foundation.
Subscribe to Blog via Email