Glendale City Council Watch
Eco-Items on the Agenda for Tuesday, May 24, 2022

6 pm Regular Meeting
Live Feed / Agenda: https://glendaleca.primegov.com/Portal/Meeting?compiledMeetingDocumentFileId=48008
4. Consent items
c. Public Works, re: Adopt the Plans and Specifications for the Rectangular Rapid Flashing Beacon (RRFB) Installation Phase 2
Note: This item is related to implementation of the Pedestrian Plan.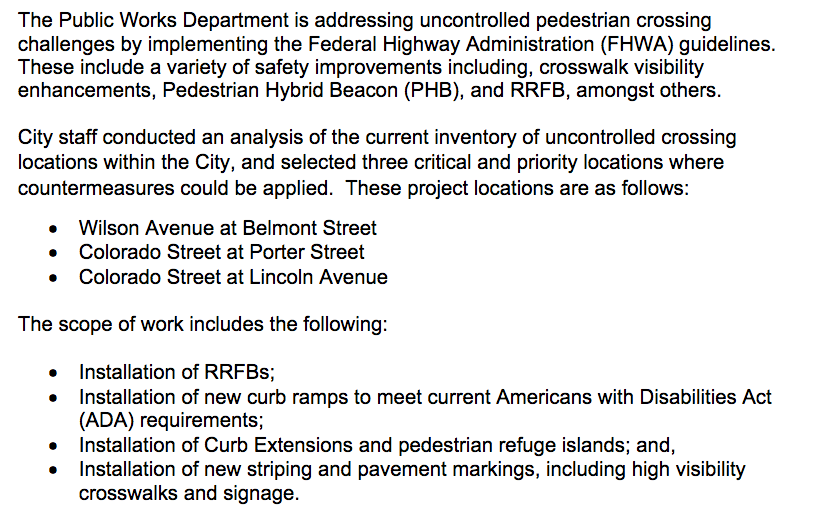 8. Action items
8a Authorization to participate in the Transformative Climate Communities Grant Program (Report)  Note: This exciting $35m grant proposal (distributed over five years), is for projects which would benefit an area of our city in which pollution and climate impacts are and will be felt the most, South Glendale. "The vision of the TCC Program is to empower the communities most impacted by pollution to choose their own goals, strategies, and projects to reduce greenhouse gas emissions and local air pollution." Thank you to City Staff, including Elizabeth Harris from the Office of Sustainability and GWP's Bryan Salazar for their input. Here are a few highlights from the staff report:

Note: The grant proposal was discussed in depth at a recent Sustainability Commission Meeting by Elizabeth Harris.  The following video is cued to the presentation:

8b Power line clearance and tree trimming

8c Public Works, re: Purchase Order Contract for One Madvac LS125 Electric Vacuum Sweeper (Report) Note: This is a great start for Glendale replacing diesel street sweepers, which emit nitrogen odixes (NOx) and particulate matter (PM).  PWD currently operates 6 street sweepers. This is a new, electric sweeper from a reliable company (shipping April, 2023) that can access narrow areas such as protected bike lanes, narrow alleyways (Glendale has 30 miles of these), paths and parking areas. Thank you to Dept. of Public Works for moving proactively to electrify our city fleet and to prepare for the maintenance of future protected bike lanes!

9. Hearings
9a Community Development, re: Consideration of Ordinances Amending the Downtown Specific Plan (DSP) and Title 30 of the Glendale Municipal Code, 1995, Regarding Miscellaneous Clean-Ups and Minor Amendments (General Plan Amendment Case No. PGPA2205740 and Zoning Code Text Amendment Case No. PZC2205401) – Link to Report
Ordinance for Introduction Amending the Downtown Specific Plan (DSP)
Ordinance for Introduction Amending Title 30
One highlight:


Note – Scheduling changes can and do occur. We try to keep this post updated if things change, but please consult the city website for official agendas.
Subscribe to Blog via Email