Glendale City Council Watch
Eco-Items on the Agenda for Tuesday, November 15, 2022
6 pm Regular City Council Meeting
Agenda/Watch: https://glendaleca.primegov.com/Portal/Meeting?meetingTemplateId=33837
7. ADOPTION OF ORDINANCES
a. Community Development, re: ORDINANCE AMENDING SECTIONS 30.11.020, 30.11.050 AND 30.34.080, AND REPEALING AND REPLACING 30.34.110 OF TITLE 30 TO THE GLENDALE MUNICIPAL CODE, 1995 ESTABLISHING STANDARDS AND MINISTERIAL PROCESSES FOR REVIEWING AND APPROVING ELIGIBLE SB 9 PROJECTS, MINIMUM FLOOR AREA RATIO STANDARDS FOR CERTAIN MULTI-FAMILY HOUSING DEVELOPMENT PROJECTS (SB 478) AND INCORPORATION OF STATE LAW AMENDMENTS AND MINOR MODIFICATIONS AND CLARIFICATIONS RELATED TO ACCESSORY DWELLING UNITS AND JUNIOR ACCESSORY DWELLING UNITS (CASE NO. PZC-0001-2022) (Devine, 11/01/22)
b. Community Development, re: ORDINANCE ADOPTING THE 2022 CALIFORNIA BUILDING CODE AS VOLUME IA, THE 2022 CALIFORNIA RESIDENTIAL CODE AS VOLUME IB, THE 2022 CALIFORNIA EXISTING BUILDING CODE AS VOLUME IC, THE 2022 CALIFORNIA PLUMBING CODE AS VOLUME II, THE 2022 CALIFORNIA MECHANICAL CODE AS VOLUME III, THE 2022 CALFORNIA ELECTRICAL CODE AS VOLUME IV, THE 1997 UNIFORM HOUSING CODE AS VOLUME V, THE 2022 CALIFORNIA FIRE CODE AS VOLUME VI, THE GLENDALE SECURITY CODE AS VOLUME VII AND THE GLENDALE COMMERCIAL, INDUSTRIAL PROPERTY MAINTENANCE CODE AS VOLUME VIII AND THE 2022 CALIFORNIA GREEN BUILDING STANDARDS CODE AS VOLUME IX ALL OF WHICH COMPRISE THE BUILDING AND SAFETY CODE OF THE CITY OF GLENDALE, 2023 (Najarian, 11/01/22)
c. Management Services, re: AMENDING THE GLENDALE BUILDING AND SAFETY CODE VOLUME IX TO ADOPT LOCAL AMENDMENTS TO THE 2022 EDITION OF THE CALIFORNIA BUILDING AND ENERGY CODE PERTAINING TO BUILDING ELECTRIFICATION, SOLAR PHOTOVOLTAIC AND ELECTRIC VEHICLE CHARGING INSTALLATIONS (Brotman, 11/01/22)
[Item 7c] GEC strongly supports the adoption of these reach codes!
They will help reduce local air pollution and confront the climate crisis, improve public health, and save new building occupants money on their utility bills. Read our GEC web post regarding reach codes and joint letter submitted to City Council for background.
[Item 8b] GEC supports the Verdugo Wash Project. Please attend to support this item!
On Tuesday, November 15, a final presentation of the visioning study will be presented to City Council, and a request for further direction will be made. This is our chance to let the Council know how important this opportunity is to our community and the region. Please plan to attend next Tuesday's meeting which begins at 6 PM at 613 East Broadway, 2nd Floor, Glendale 91206, or call in at 818-937-8100. We will see you there!
Staff Report: https://glendaleca.primegov.com/Portal/viewer?id=3588&type=0
Final version of the Visioning Study: https://glendaleca.primegov.com/Portal/viewer?id=7398&type=2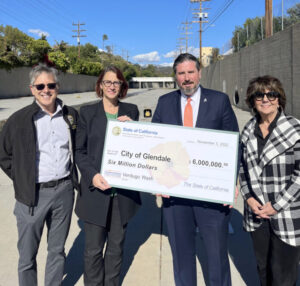 "The project to reimagine the uses for the Verdugo Wash began in 2021 and started with the idea of integrating a multi-use aspect for the community by creating a bike lane that would stretch along the entirety of the 9-mile concrete channel. Since then, the project has undergone a "visioning process" by the city that extends past a bike lane, even going as far as to potentially implement playground spaces and other socially engaging environments along the 9-mile route, according to the city's Verdugo Wash website.
"We can reclaim the Verdugo Wash and areas on the side of the wash is a huge opportunity to create a dedicated bicycle and pedestrian path that residents can use for recreation and active transportation," Friedman said. Friedman explained that bringing $6 million for the Verdugo Wash is meant to act as a jumpstart for more planning and infrastructure costs that will go into the development of the community project.
"Giving people the option to get around through not only public transportation but active transportation is important to public health and equity. This project is also important for congestion relief within Glendale and for our desire to reduce carbon emissions," she said.
FULL ARTICLE: https://glendalenewspress.outlooknewspapers.com/2022/11/08/verdugo-wash-receives-6-million-for-revitalization/
LEARN MORE: https://www.verdugowash.com/
c. Glendale Water and Power, re: Request for Proposal for Development of a Plan for Clean Energy Studies per Council Resolution No. 22-125 – REPORT / Request for Proposals
1. Resolution directing staff to issue a Request for Proposals (RFP) for development of a Plan to Increase Solar Penetration and Develop Additional Distributed Energy Resources (DER), Consistent with Council Resolution No. 22-125
2. Motion to Note and File Report
[Item 8c] GEC Strongly supports issuing an RFP for development of a plan to significantly increase solar penetration and develop additional Distributed Energy Resources (DER) in Glendale. Please attend, call in, or email ahead to show your support!
Staff Report: https://glendaleca.primegov.com/Portal/viewer?id=3725&type=0
Request for Proposals (RFP): https://glendaleca.primegov.com/Portal/viewer?id=7239&type=2

Note – Scheduling changes can and do occur. We try to keep this post updated if things change, but please consult the city website for official agendas.
Subscribe to Blog via Email