Glendale Joins Transportation Electrification Partnership
ADVANCING EV INFRASTRUCTURE & INCREASING EV INTEGRATION
Los Angeles Cleantech Incubator recently announced that the local utilities for the cities of
Burbank
,
Glendale
, and
Pasadena
 have joined the
Transportation Electrification Partnership
 (TEP) as part of the Advisory Group. The Partnership now includes over 30 members who have committed to working individually and collectively to achieve an additional 25 percent reduction in greenhouse gas emissions and air pollution by the time Los Angeles welcomes the 2028 Olympics.
Excerpts from LACI's Press Release:
"Glendale is looking forward to being involved with LACI's Transportation Electrification Partnership's advisory group," said Glendale Water & Power General Manager Stephen M. Zurn.
"Our involvement will offer an opportunity for our City to demonstrate government leadership toward advancing EV infrastructure and increased EV integration in our surrounding communities. Glendale recognizes that the electrification of transportation is a crucial strategy towards achieving improved air quality and climate goals both locally and statewide. Glendale is eager to collaborate with the advisory team in achieving air quality and climate goals."
"The Partnership, alongside a coalition of 50 other organizations from 15 states, recently sent a letter to Congressional leaders asking for commitment to federal transportation electrification stimulus funding. The federal stimulus proposal of $150 billion would invest in zero emissions infrastructure that could create 2.3 million new jobs across the U.S., restart the economy, and ensure cleaner air."
"LACI is excited to work with these municipal utilities to advance the Partnership's transportation electrification and zero emissions goods movement goals, as outlined in TEP's Zero Emissions 2028 Roadmap," said Matt Petersen, chair of TEP and CEO of LACI."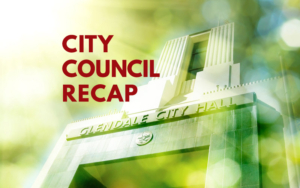 You can read MORE about efforts underway to electrify Glendale's city fleet in this council wrap up, item #2.
Subscribe to Blog via Email