Eco Items on the Agenda
6 pm Regular City Council Meeting
Agenda/Watch: https://glendaleca.primegov.com/Portal/Meeting?meetingTemplateId=35852
4. CONSENT ITEMS
d. Public Works, re: Professional Services Agreement to Develop the 2025-2045 Glendale Recycling Center Master Plan
Motion authorizing the City Manager, or a designee, to award a professional services agreement to HDR Engineering, Inc. to develop the 2025-2045 Glendale Recycling Center master plan
8. ACTION ITEMS
b. Glendale Water and Power, re: 2024 Integrated Resource Plan Updates.
REPORT
Motion to note and file report.
NOTE: Lively discussion and public comments regarding IRP (Integrated Resource Plan) process and the limited number of scenarios being run by GWP for future presentation to council that meet the policy goals stated by City Council of 10% solar and storage penetration by 2027 and 100% clean energy by 2035. 2 out of 6 scenarios being analyzed target the 100% clean by 2035 goal.
EXCERPTS FROM STAFF REPORT ON STAG PROCESS: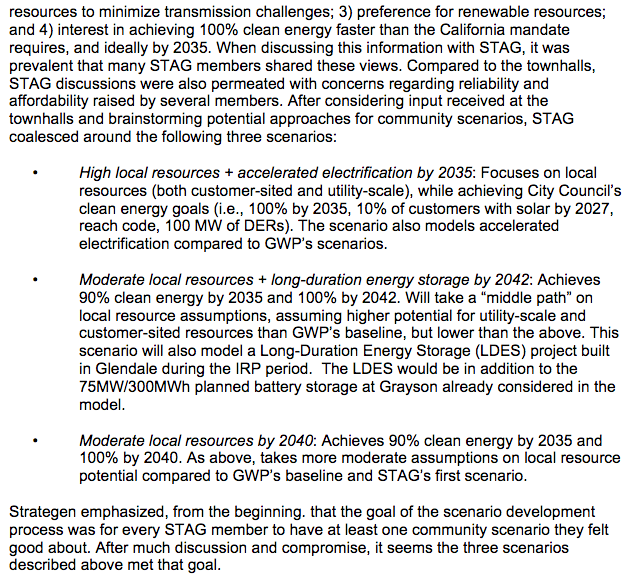 Outcome: MOTION TO NOTE AND FILE PASSED (Brotman, Devine, Kassakhian, Najarian – Aye; Asatryan – Abstained)
Note – Scheduling changes can and do occur. We try to keep this post updated if things change, but please consult the city website for official agendas.
Subscribe to Blog via Email