Eco Items on the Agenda
6 pm Regular City Council Meeting
Agenda/Watch: https://glendaleca.primegov.com/Portal/Meeting?meetingTemplateId=34963
8. Action Items
c. Community Services and Parks, re: Lease Agreement between the City of Glendale and Southern California Edison Company for use of real properties for the purpose of constructing a passive park – Report / Exhibit (Site Plan) / Exhibit (Parcel Map)

Motion authorizing the City Manager, or his designee, to negotiate and execute a Lease Agreement between the City of Glendale and Southern California Edison (SCE) for use of SCE-owned real properties with Assessor's Parcel Numbers 5653 001-800 and 5616-003-800 for the purpose of developing a passive park
GEC POSITION ON ITEM 8C:
While costs for entering a lease are nominal (approximately $1500 per year), costs for the proposed passive park are not nominal—estimated between $1.5 and $1.7 M dollars.  GEC appreciates the City considering an underutilized property for park space, but feels this money would be better spent on parks in park-poor South Glendale, rather than for a new park for Northern Glendale, where most residents have yards and convenient access to green space.

d. Public Works, re: City of Glendale Zero-Emission Bus Rollout Plan – Report / Exhibit (Rollout Plan)

Resolution approving the Glendale Zero-Emission Bus Rollout Plan that provides the roadmap to transition the Glendale Beeline fleet to a zero-emission battery-electric bus fleet
Report Excerpts: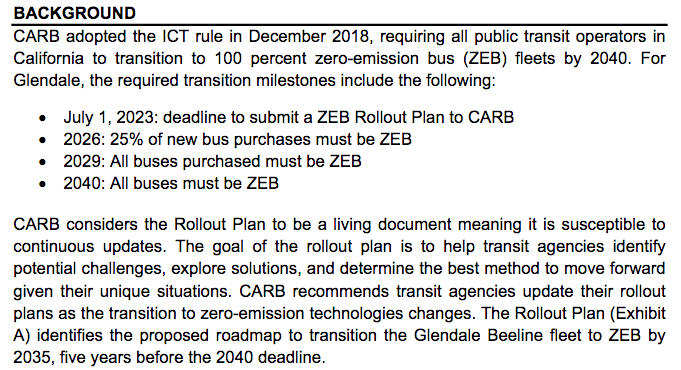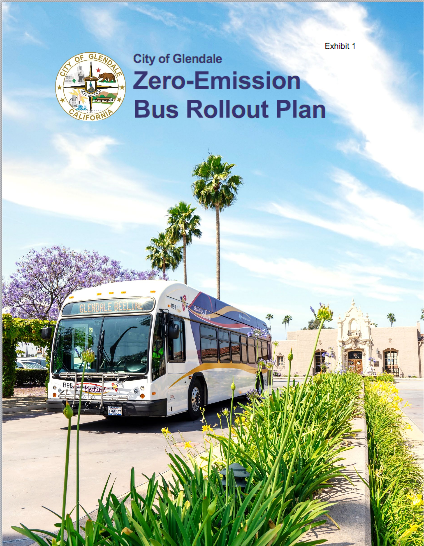 Note – Scheduling changes can and do occur. We try to keep this post updated if things change, but please consult the city website for official agendas.
Subscribe to Blog via Email