Eco Items on the Agenda
6 pm Regular City Council Meeting
Agenda/Watch: https://glendaleca.primegov.com/Portal/Meeting?meetingTemplateId=36016
8. ACTION ITEMS
a. Management Services, re: Ordinance Amending Glendale Municipal Code, 1995, Title 8 Chapter 8.42 To Prohibit the Use, Distribution and Sale of Polystyrene Products on A Citywide Basis
Ordinance for Introduction
Report / Ordinance  / Resources from Office of Sustainability
EXCERPT FROM STAFF REPORT:

Item 8A: GEC STRONGLY SUPPORTS THE INTRODUCTION OF THIS ORDINANCE
On Tuesday, October 31 (6 PM) Glendale has the opportunity to join 120 cities in California in prohibiting the use, distribution and sale of expanded polystyrene (EPS or "foam") products citywide. EPS is not compostable and is not recycled through curbside recycling programs. It does not biodegrade, poses a risk to wildlife, can easily blow out of open garbage cans and trucks, and can leach harmful chemicals into the environment when landfilled. In addition to the health concerns, it burdens us with street, park, soil, and waterway clean-up and waste management costs. GEC thanks the Office of Sustainability for their work on outreach, education and preparation for the introduction of this ordinance. We applaud Council's earlier adoption of an ordinance banning EPS at City events and facilities and urge passage of this city-wide ordinance.
Outcome: Ordinance successfully introduced by Councilmember Devine
(with amendments strengthening Polystyrene ban.)
Eco Items on the Agenda

c. Management Services, re: San Gabriel Mountains National Monument Expansion Support
Resolution Supporting San Gabriel Mountains National Monument Expansion
EXCERPT FROM STAFF REPORT: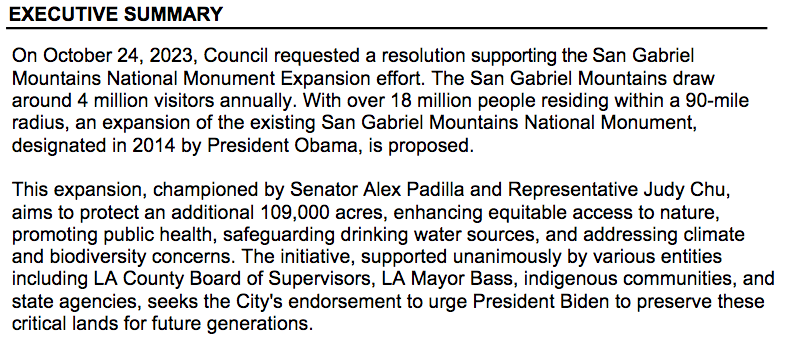 Item 8C: GEC SUPPORTS THIS ITEM

Glendale Environmental Coalition encourages the City of Glendale to support the effort to expand the San Gabriel Mountains National Monument and thanks Councilmember Kassakhian for requesting this item be agendized.
Outcome: Passed Unanimously (Asatryan absent)
Note – Scheduling changes can and do occur. We try to keep this post updated if things change, but please consult the city website for official agendas.
Subscribe to Blog via Email