6 pm Regular City Council Meeting
Agenda/Watch: https://glendaleca.primegov.com/Portal/Meeting?meetingTemplateId=33387
4. CONSENT ITEMS
c. Public Works, re: Grant Funds for the Carl Moyer Program from the South Coast Air Quality Management District (AQMD)
1. Motion accepting $225,000 in Carl Moyer Infrastructure grant funds from the AQMD to purchase and install three electric bus chargers at the Beeline Bus Maintenance Facility and authorizing the Director of Public Works or his designee to execute the funding contract with the AQMD and any amendments, thereto with AQMD
7. ADOPTION OF ORDINANCES
a. Community Development, re: Adoption of Extension of Interim Urgency Ordinance No. 5978 Prohibiting Issuance of Entitlement and/or Permits for Hotels in the Downtown Specific Plan Area of the City (Brotman, 09/27/22)
8. ACTION ITEMS
a. Community Development, re: Project Development Team Formation to Update the Citywide Bicycle Transportation Plan (BTP), the creation of Vision Zero policies, and Development of an Outreach Plan – REPORT / SUPPLEMENTAL REPORT
1.  Motion Authorizing staff to form a Project Development Team (PDT) to Update the Citywide Bicycle Transportation Plan and develop Vision Zero policies, and provide direction for developing of a robust outreach plan
b. Public Works, re: Bicycle Facility alternative options for the La Crescenta Avenue Rehabilitation Project – REPORT
1. Motion Selecting a Bicycle Facilities Alternative for the La Crescenta Avenue Rehabilitation Project
[Item 8b] GEC supports Option 1: Class II dedicated bike lanes.

Walk Bike Glendale, Glendale Environmental Coalition, and Drive Safe Glendale sent a joint letter supporting Option 1 for the La Crescenta Avenue Rehabilitation Project. Option 1 is also the option recommended by staff, after extensive public outreach.
Staff report description: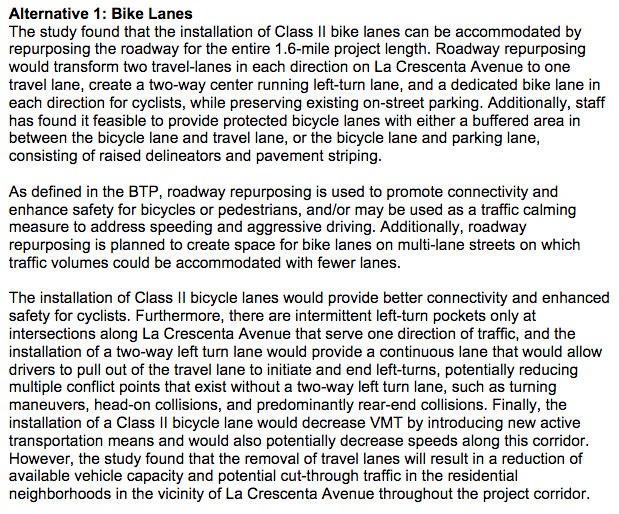 Note – Scheduling changes can and do occur. We try to keep this post updated if things change, but please consult the city website for official agendas.
Subscribe to Blog via Email